Books

Foreign: Matt Norman


Amazon
There is one problem with our culture today that I believe causes more damage to the church's pursuit of the gay community than any other. It's probably not what you think. It's not outright animosity. It's not lack of knowledge. As odd as it may seem, I believe our greatest problem is comfort. In our largely uncontested addiction to it, we have precious little understanding of what it means to wander as foreigners in a barren wilderness. Comfortable and secure within the manufactured righteousness of the majority, we look at those whose natural desires are not socially acceptable, and we shake our heads. It is comfort that tells us we cannot understand. It is comfort that casts other people as different.
You need to understand exactly what you're saying when you lead another person to forsake their deepest dreams for a different dream that feels completely foreign to them. The thing is, you have this understanding readily provided for you in the depths of the gospel, which leads us all along this path. "For his sake I have suffered the loss of all things and count them as rubbish, in order that I may gain Christ and be found in him" (Philippians 3:8-9). This is what it looks like to turn our backs on the dreams we all naturally pursue. The utter sense of loss is simply unavoidable. There is no other path to finding God's deep comforts and pleasures. Yet our flesh avoids that feeling of exposure like a toddler in full tantrum.
In this book, you'll find practical, ground-level wisdom for loving your gay friends well. But nothing will aid you more than knowing that you're a foreigner in this world. Nothing will aid you more than seeing how unnatural God's grace is for you. Dig into this reality. Follow Jesus through the loss of all things, and find delight in the new desires of the Spirit, as foreign as they may be. There is no difference between the change you experience and the change your gay friends experience. In the loss of all things, we all find greater treasures than we ever imagined.
---
God on Display: Matt Norman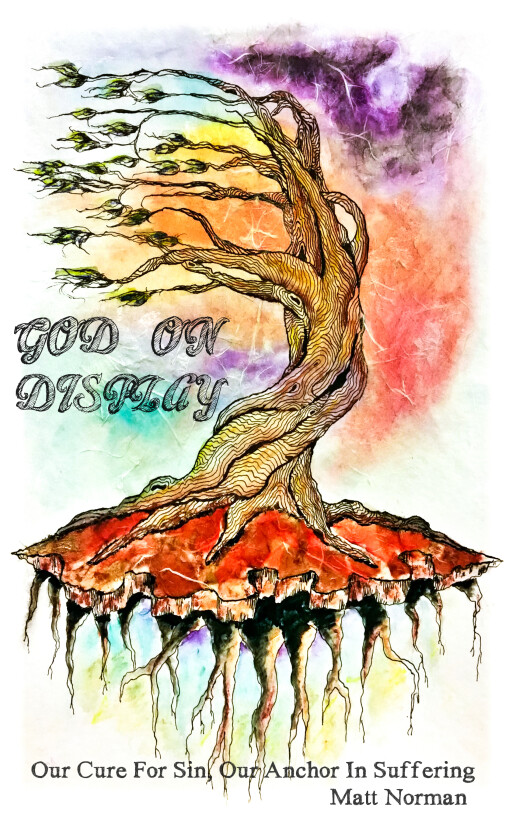 Amazon
PDF

We all find ourselves in times of callousness and stagnant growth throughout our lives. For some of us, the graces of established daily disciplines and community stand ready to draw us out of these times. Yet, for many of us, escaping a calloused, stagnant heart can be illusive. It may be that we never understood what disciplines of grace are supposed to look like. It may be that we suffer intense shame over past abuse or current addiction. There are many other reasons as well. In these situations, it's helpful to have a safe place to grow.
Redemption groups are here to meet you where you are and lead you to see God as He truly is. This ministry is built on a simple yet profound truth that we fundamentally change as we see God for who He really is. You're likely approaching this book wondering what you can do to escape the place you're in. For sure, God commands us to do many things. I want you to realize, however, that God's power rescuing your sinful heart will first lead you to gaze on Him and delight in Him. And in the trust that gaze develops, you'll find yourself obeying God joyfully and not under compulsion. When a crowd asked Jesus what they must do to be doing the works of God, He responded, "This is the work of God, that you believe in him whom he has sent." (John 6:28)
The purpose of this book is to lead you to enjoy God deeply and frequently in the middle of common, mundane life. I strongly encourage you to apply the "Action" section of each chapter. My hope is that as you transition out of this season, you will have a grasp of God's character and what daily disciplines of grace look like. The goal is to hand you off to your community group, where you will be better equipped to grow with others into the full stature of Christ.