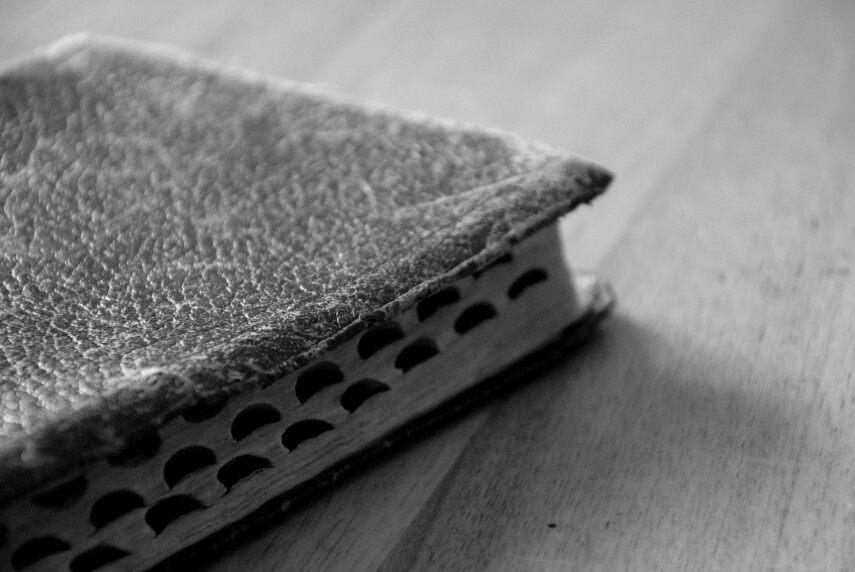 Colossians 3:22-4:1: Bondservants, obey in everything those who are your earthly masters, not by way of eye-service, as people-pleasers, but with sincerity of heart, fearing the Lord. 23 Whatever you do, work heartily, as for the Lord and not for men, 24 knowing that from the Lord you will receive the inheritance as your reward. You are serving the Lord Christ....Masters, treat your bondservants justly and fairly, knowing that you also have a Master in heaven.
Does the Bible promote slavery? That's the question when we read passages like this. Paul addresses slavery when writing to the Colossians, Corinthians, Ephesians, Timothy, Philemon and Titus. Peter also deals with it directly. The Bible speaks to it directly and often. Even here in Paul's letter to Colossae, it gets more playing time than what is written to the family.
The simple answer: no. Paul and Jesus both hated slavery and felt we were all equal in stature. The Bible is not pro-slavery. In fact, it was the primary text used when William Wilbeforce fought so hard against the slave trade.
Jesus says, "You shall love the Lord your God with all your heart and with all your soul and with all your strength and with all your mind, and your neighbor as yourself." (Luke 10:26–28)
Paul says, "Here there is not Greek and Jew, circumcised and uncircumcised, barbarian, Scythian, slave, free; but Christ is all, and in all." (Colossians 3:11)
So the real questions is, "why didn't Paul just uproot slavery? Why doesn't he call for it's end?"
Very simply, Paul wasn't speaking to slavery as we see it today. First centruy slavery in the Mediterranean isn't the same thing as early American slavery many hundreds of years later.
We have a tendency to lay our current contemporary grids over Biblical stories or ideas, which is why passages like this can be difficult. For certain, our country's historical slavery is a blight on our past, many of the forefathers we learn about, and many churches at that time as well. Thomas Jefferson owned many slaves, as did Jonathan Edwards for a season. Our country has a bad storyline to it regarding the equality of men. There is no arguing this.
In fact, it's difficult for us to even say the word "slavery" and envision anything different than the American experience. American slavery was forced, racial, and permanent. This is not the same slavery we see Paul address in Colossians and in other passages. This is why it's not helpful to read the Bible in a way where we project current understandings backwards in time.
In the first century slavery wasn't racial in nature. There was racism in the first century, and there was slavery, but they weren't connected like they wer ein the American experience. Slaves were born in the same locations and looked the same as the ones who worked them. It wasn't fueled by racial distinctions. In other words, you wouldn't have been able to tell a difference by skin color in most cases.
There were a few things that would land you in service by slavery back then. Serious debt was one of these reasons. For those who couldn't pay a debt, their families may have to pay it back in servitude. This is still true to a certain degree, for those who are in deep debt. You work and work to pay off your debts. Orphans also had no welfare system or Child Protective Services that we have in place today. There was no government covering for unwanted and handicapped children who were left for dead with no penalty. In fact, it would be the church - led by the gospel in the Bible - who would adopt the "unwanted" as an image of the gospel they trusted in.
Overall, roughly one-third of the populace in this time period was said to have been made up of slaves, and in some places there were more slaves than freemen, which goes to show why the Bible is so fluent in addressing slaves. Slaves/bondservants were sometimes more educated than their masters and managers over estates. Slaves/Bondservants also could potentially make as much money as the freemen in most cases and were able to acquire their freedom by their 20s and early 30's if they were brought in as children. Slaves/bondservants were more like what we'd call maids, nannies, housekeepers, and administrators than a "slave" we learned about in American history. Many times, they were loved and adopted like family. Some situations were so good that the slaves preferred their service to freedom outside that given household. Nehemiah would be an example of this.
Along with Paul and Jesus, we at Legacy vehemently stand against anything promoting the stature and dignity of one life over another. We are against slavery - and so is the Bible we stand by.
So back to the original question: why didn't Paul call for a major revolution against this bondservice/slavery?
Upending this servitude would have done great harm to those in service. Without a way to curb civil matters of debt and injury death and violence would replace it. Orphans would also be left for dead in vast numbers. Remember, there was no welfare or state's care. No government programs existed to shelter those cast out by society.
The Bible is not pro-slavery as we understand it through the American experience.
Paul is saying to slaves and slaveholders the same thing he has been saying this whole letter to Colossae. Jesus is preeminent above all. Wives are to "look above" to Christ as their example of submission; husbands are to "look above" to Christ as their example of love; children are to "look above" to Christ as their example of obedience; slaves are to "look above" to Christ as their impartial rewarder; masters are to "look above" to Christ as their heavenly judge.
To hear this taught in sermon form click here.